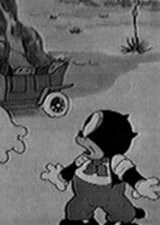 Beans the Cat was the third Looney Tunes cartoon character star after Bosko and Buddy. When the cartoon animators/directors Hugh Harman and Rudy Ising left Leon Schlesinger's studios in 1933, they took their main creation, Bosko, with them. Schlesinger had to rebuild his animation studio for Warner Brothers without so much as a marketable character to draw audiences. In Bosko's absence, Buddy was introduced.
In 1935, animator Friz Freleng attempted to jumpstart the studio with his Merrie Melodies cartoon I Haven't Got a Hat. Its cast consisted of cute animal characters with funny names; e.g., Ham and Ex, Porky and Beans, Oliver Owl, and Little Kitty. Schlesinger hoped that some would catch on with audiences and become bankable stars.
The short was a success. Warners retired Buddy and began to push Beans the Cat as their next cartoon star. In 1935, Beans starred in his first solo Looney Tunes film, A Cartoonist's Nightmare, followed by Hollywood Capers. Beans then began appearing with characters from the cast of I Haven't Got a Hat, most frequently Porky Pig. However, after a number of Porky and Beans outings, it became clear that the character audiences were talking about was Beans's stuttering sidekick, Porky Pig. Beans was voiced at first by Billy Bletcher and sometimes Tommy Bond, and later by Will Ryan.
In April 1936, Beans starred in Westward Whoa, his last cartoon short with the rest of the I Haven't Got A Hat ensemble. This cartoon would be the last appearance for most of these characters. For the rest of this decade, all Looney Tunes starred Porky Pig and his sidekicks, including Gabby Goat and later Daffy Duck. Template:-